Tips for Prospective and Current PhD Students
by Zoey Soh
Our UACES network is full of PhD researchers and established academics who are more than keen to share their experiences to help others. We surveyed our members and asked them to reflect on their PhD experience, past and present. Though everyone's experience is different, we have identified some common tips that helped them on their journey or that they wish they had known before.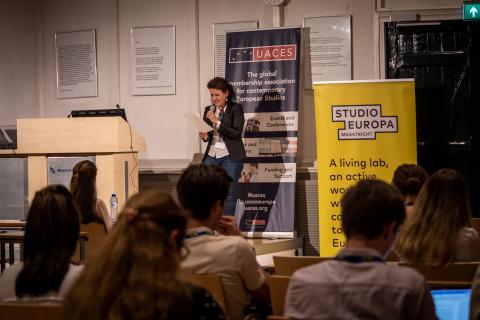 1.

Obtain funding
For most, obtaining funding is the number one priority if you choose to do a PhD. Without the constant financial pressure, you can focus more thoroughly on your research and make the most of your PhD journey. Try to look for funding at least one year before starting your PhD. For more information on obtaining funding for a PhD, you can find more information here.
2.

Choose your supervisor wisely

(

and

do not

be afraid

to change your supervisor

)
Another key advice was to find a supervisor that you respect and with whom you can work well. Some key points that you can use to assess a potential supervisor are whether their field of expertise matches your interests, and whether they are experienced enough to provide you with supervision and help with publications and future jobs. If you are in the process of choosing a supervisor, our members have found it helpful to contact other PhD students in the department for any feedback about the potential supervisor. If your prospective supervisor has any other current or past supervisees, their feedback would be most valuable.
You should also ensure that you are comfortable with your supervisor's style of supervising. For example, if you prefer having more guidance and feedback for your work, it would be better to find a supervisor that matches this style. Or if you prefer being more independent with your work, a supervisor that is more hands-off would be a better fit. To assess this fit, it was advised to openly discuss expectations, internal deadlines and working styles during your first meeting with your supervisor.
If you find that your supervisor turns out not to be a good fit for your style of work, do not hesitate to change your supervisor. This is possible and shouldn't hold you back from following your style of doing research.
3.

Make sure you love your topic
Like supervisors, it is equally important to choose your PhD topic wisely. Remember, your PhD should be on a theme that keeps you engaged through at least 3 years!
Don't be afraid to consider changing your topic. Our survey respondents found that it is usually possible to change the title of your thesis and if you feel your research needs a different direction, you should do it as soon as possible.
4.

Network and constantly seek advice
Join clubs, and socials and constantly consider how you can build networks during your studies. For example, seek out other supervisees of your supervisor and regularly attend seminars where you can talk to other PhD researchers studying similar topics. Our members found that talking to others in their faculty can also be extremely helpful for seeking advice on matters such as obtaining a scholarship, time management and balancing private and scholarly life. Most of the time, people are nice and happy to talk and share advice.
It is also recommended to attend academic conferences which sometimes have student panels with reduced fees. For example, the UACES Graduate Forum organises the annual Graduate Forum Research Conference where you can meet other PhD and early career researchers. UACES also organises other events and workshops, such as the Doctoral Training Academy where participants found it especially interesting to listen to UACES members who shared their very own experiences and gave helpful tips on how to keep a healthy work-life balance during a PhD. Overall, UACES offers a broad network that goes beyond your institutional network where you can meet other researchers and seek advice.
5.

Be sure of your motivations for the PhD
Most of our members' motivation to do a PhD was their interest in research and their topic, while some wanted to teach or work in other areas in academia. Other members warned to not see completing the PhD as a challenge to prove intellectual ability. Instead, they advise seeing the PhD as a learning opportunity to develop your own research project on a topic you're passionate about and you wish to become an expert in. This way, the PhD is worth it as an end itself and would still be valuable even if you don't complete it.
One tip from a UACES member was to explicitly write down why you chose to do a PhD to remind yourself of this motivation during your difficulties.
6.

A PhD is not a guarantee for a job in academia
Even if you desire to work in academia, completing a PhD is not a guarantee for a job in academia. Thus, it is advisable to reflect from time to time on what you are going to do after the PhD and the range of jobs open to you beyond academia. There are fewer positions in academia available than PhD holders, so it is important to consider the possibility of not getting the job you longed for and be open for other opportunities that might be a good fit for you, too.
7. Read broadly
Though you may find your own niche in your desired research field and want to read everything in that topic, a tip our members gave was to diversify your reading.
For example, Dan Ziebarth, PhD student in the Department of Political Science at George Washington University, focuses his research on issues of climate change, human rights, and public policy. Though he reads work directly related to his research, he finds that it was especially beneficial to read in areas of literary criticism, ecological economics, legal philosophy, geography, and even fiction novels. He believes that reading broadly introduces new perspectives and ideas that you would not have otherwise come across but add value to your research. Overall, he believes that it gives a "unique perspective and can make your research and teaching very interesting and creative."
8. Actively try to learn new methods
When asked about what they wished they did differently while pursuing their PhD, some mentioned learning more methods, even those not directly related to their research. Though you may not be interested in using quantitative methods, such as regression and hypothesis analyses, in your academic work, consider learning them as they might open up new ideas or opportunities in the future.
9. Find opportunities to publish and write
Though a book isn't always a product of a PhD, you can consider a PhD as an opportunity to publish a book. Constantly seek out opportunities to write and aim to publish at least one article in a recognised journal. Multiple respondents have advised to start writing and publishing early so that you have at least one article accepted in a journal before completing your PhD. Your publishing record and being able to demonstrate that you can get past peer review will be extremely beneficial for securing an academic job.
A tip for writing was to not wait to have all your research together before starting to write, as you'll continue researching new literature and data while you are writing. A regret some respondents mentioned was trying to perfect their literature review and as quoted from Jakub Wołyniec, PhD candidate at UMCS in Lublin, "a decent thesis is still better than half of a perfect thesis."
A good starting point for writing can be a blog. Ideas on Europe is a multi-blog platform that allows UACES members to start their own blog where they can publish their work to a wider audience outside of their own institution and beyond the academic sphere.
10. Don't

be afraid

of

failure
Lastly, it's important to remember that your PhD journey will be filled with failures, but that doesn't mean you're not succeeding. As a researcher, you might face rejections from funding opportunities, journals, and conferences. Or you might face harsh criticism on your work from your supervisor or peers. However, it is important to use these setbacks as feedback to allow you to try again and improve. Don't let the fear of failure prevent you from taking risks!
That's it for our tips! We hope that this has been useful for you and wish you all the best for your PhD journey.