The Criminalisation of Irregular Migration in Europe
Book launch
With Dr Matilde Rosina
Celebrating the launch of a new book by Dr Matilde Rosina, the Criminalisation of Irregular Migration in Europe.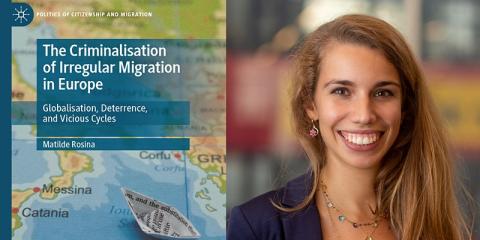 Dr Matilde Rosina will present her new book on the criminalisation of irregular migration in Europe, in conversation with Professor Leila Simona Talani and Dr Giacomo Orsini.
The book investigates the meaning, purpose, and consequences of criminalising unauthorised entry and stay. Using Italy and France as case studies, and relying on previously unreleased data, it argues that criminalisation has no effect on migratory flows, and that this is due to factors including the latter's structural determinants and the creation of substitution effects.
The presentation will be followed by a reception event.
Book : The Criminalisation of Irregular Migration in Europe: Globalisation, deterrence and vicious cycles (Palgrave 2022). Contact spe@kcl.ac.uk for a limited-time discount offer.
SPEAKER
Matilde Rosina is Fellow in International Migration at the London School of Economics and Political Science, and Deputy Director of the Centre for Italian Politics @EIS (King's College London). Matilde obtained her PhD from King's in 2020, having been awarded the King's Outstanding Thesis Prize. Her research is centred on international migration.