UACES #FeatureFriday
Meet our members and learn about their projects
Our Feature Fridays
Mostly meant as a social media campaign, the feature Fridays offer space to our members to present their achievements, recent publications or activities in the field of European Studies.
Get in touch if you want to be featured.
#FeatureFriday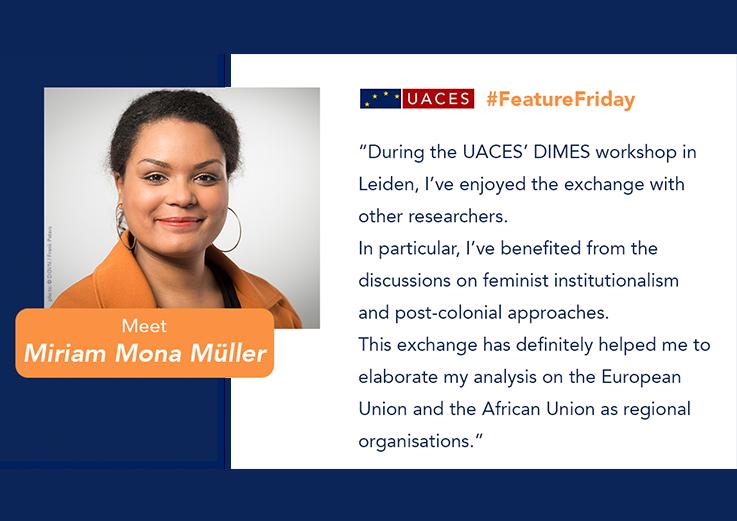 Miriam Mona Muller
Meet our member Miriam Mona Müller, a PhD Researcher on Gender, Peace and Security in the Global South. She participated at our Diversity, Inclusion and Multidisciplinarity in European Studies workshop #DIMES in March and produced a podcast with Toni Haastrup, telling us about her professional background and her experiences of DIMES. Listen to the podcast.

Amongst other experiences, she has worked for UN Woman Germany and is a current board member for the United Nations Association of Germany. We are glad to have her as a part of our community.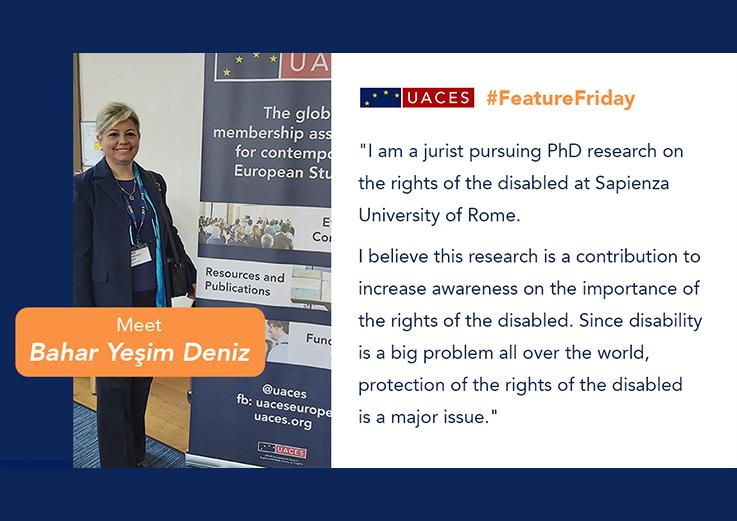 Bahar Yeşim Deniz
"I am so glad to be a member of the UACES family and look forward to attending other academic events in my field of study of European Law." - Bahar Yeşim Deniz.
Bahar worked as a European Union Expert at the Political Affairs Directorate of the Prime Ministry Secretariat General for the European Union Affairs in Ankara, Turkey after studying European Community Law at the University of Essex as a Jean Monnet Scholar. Afterwards, she developed her research in the field of European Convention on Human Rights as a Chevening Scholar of the United Kingdom Government at the University of Essex.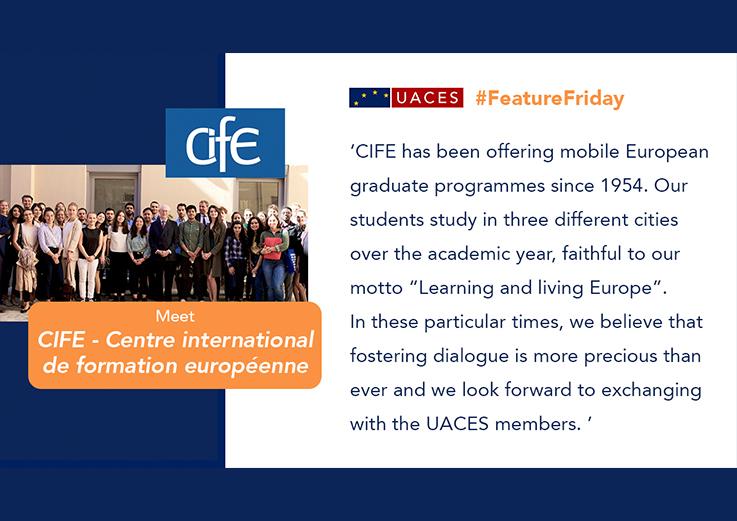 CIFE - Centre International de Formation Européenne
Welcome our new group Member CIFE with us.
The Centre international de formation européenne promotes European integration through its international and interdisciplinary study programmes.
Discover their programmes on www.cife.eu.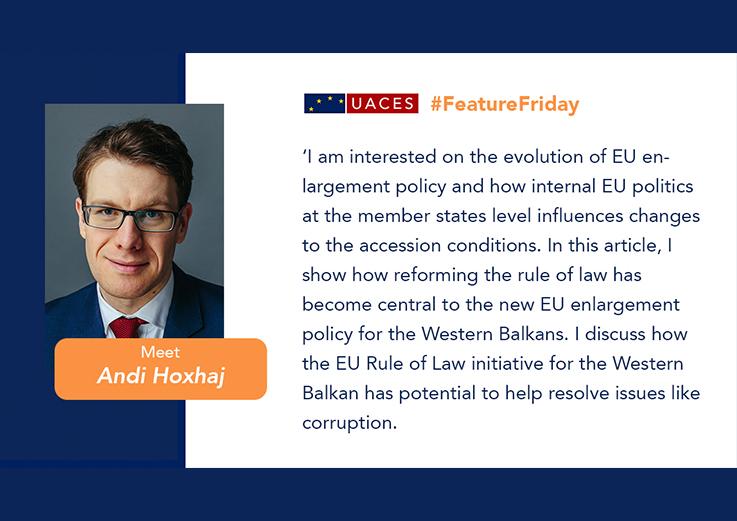 Andi Hoxhaj
Meet UACES member Andi Hoxhaj.
He has published a research article 'The EU Rule of Law Initiative Towards the Western Balkans' on the Hague Journal on the Rule of Law.
Read the article: https://link.springer.com/article/10.1007/s40803-020-00148-w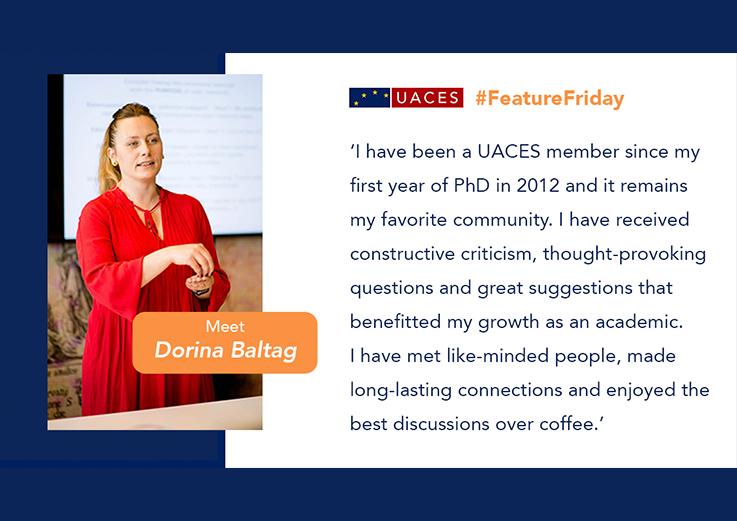 Dorina Baltag
UACES Member Dorina Baltag is committed to empowering academics to embrace entrepreneurial thinking. Her latest article 'Are my academic skills transferable?' relates to a workshop for early-career academics that she has lead at UACES annual conference 2020.
Read the article 'Are my academic skills transferable?': https://www.linkedin.com/pulse/my-academic-skills-transferable-dorina-baltag-phd/?published=t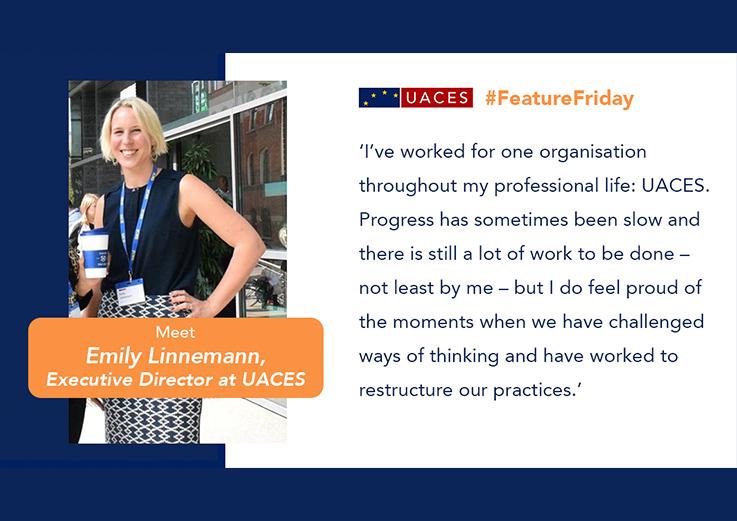 Emily Linnemann
We celebrated Executive Director Emily Linnemann's 10th anniversary with UACES.
Read about what has changed in the last decade, what she has learnt and why she loves working at UACES.
Read her reflection: https://uacesoneurope.ideasoneurope.eu/2020/08/07/standing-still-to-move-forward-reflections-on-a-decade-at-uaces/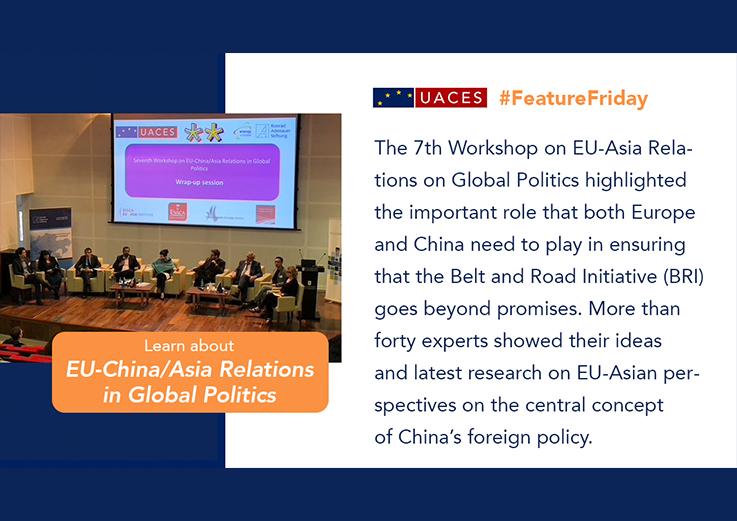 EU-China/Asia Relations in Global Politics
The 7th Workshop on EU-China/Asia Relations was organised by Maximilian Rech & Anastas Vangeli in 2018 and took place in the framework of the UACES Collaborative Research Network on EU-China Relations (UACES Group Member ESSCA School of Management at Angers / College of Europe at Bruges / Graduate School of Global Politics at Free University Berlin).
The 9th workshop on 'EU-Asia Relations and the Race for Global Resource Leadership' was held on 4-5 November 2020.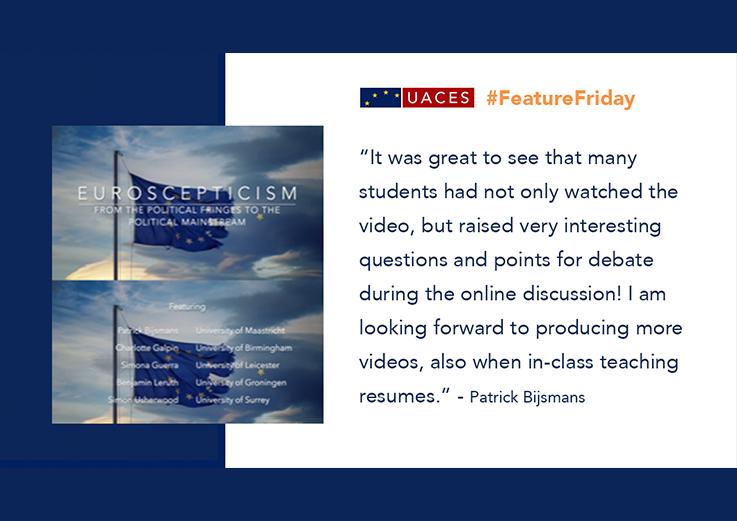 Euroscepticism and Patrick Bijsmans
UACES member Patrick Bijsmans produced a short video on Euroscepticism for his BA European Studies students at Maastricht University along with UACES members Charlotte Galpin (University of Birmingham), Simona Guerra (University of Leicester), Benjamin Leruth (University of Groningen) and Simon Usherwood (University of Surrey).
The video served as input for an interesting interactive online discussion between Patrick and the students and has been watched over 200 times.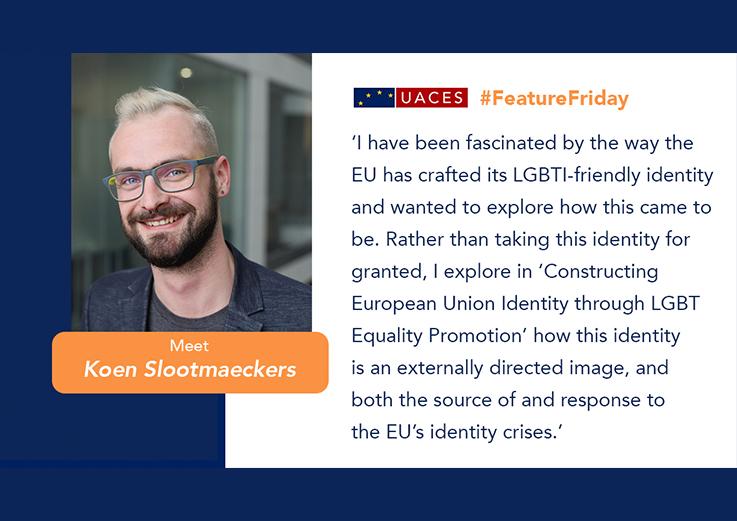 Koen Slootmaeckers
Meet UACES member Koen Slootmaeckers.
He has published the research article 'Constructing European Union Identity through LGBT Equality Promotion' on SAGE Journals: https://journals.sagepub.com/doi/abs/10.1177/1478929919877624?journalCode=pswa
The article conceptualises and examines the Othering processes within the European Union enlargement to highlight the political nature of what is often described as a technocratic process.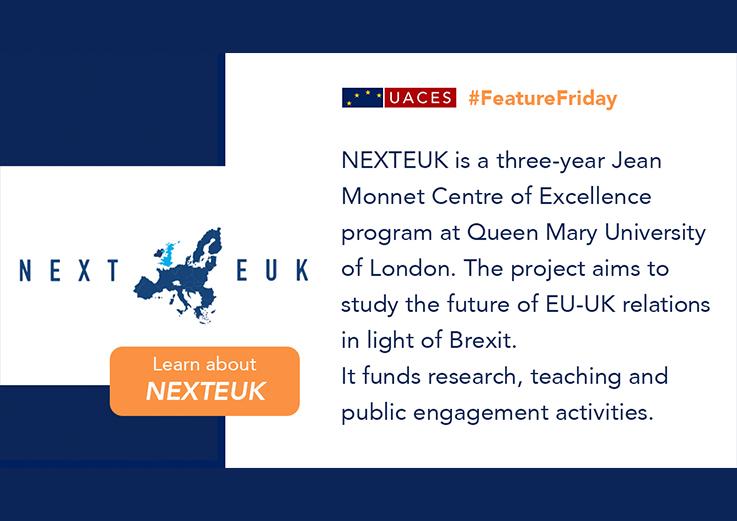 NEXT EUK
UACES member Dr Sarah Wolff and Agathe Piquet lead the NEXTEUK project. Among a team of 12 experts are Tim Bale, Paul Copeland, Rainbow Murray & Davor Jancic and with the support from MA student Griffin Shiel they provide useful resources:
The NEXETEUK Virtual Seminar Series - Negotiating the Future EU-UK Relationship in times of Pandemics.
Blog articles on EU-China relations, populist party supporters, the relations between EU and UK Parliaments after Brexit, COVID-19 and Greece, and more.
NEXTEUK podcast series on pandemic politics produced by students at Queen Mary University of London on the Greek case, the EU-China relations and the perception of EU's response to COVID-19 from outside Europe.
Working paper wondering whether Brexit is the scapegoat of the EU for the failures of British neoliberalism.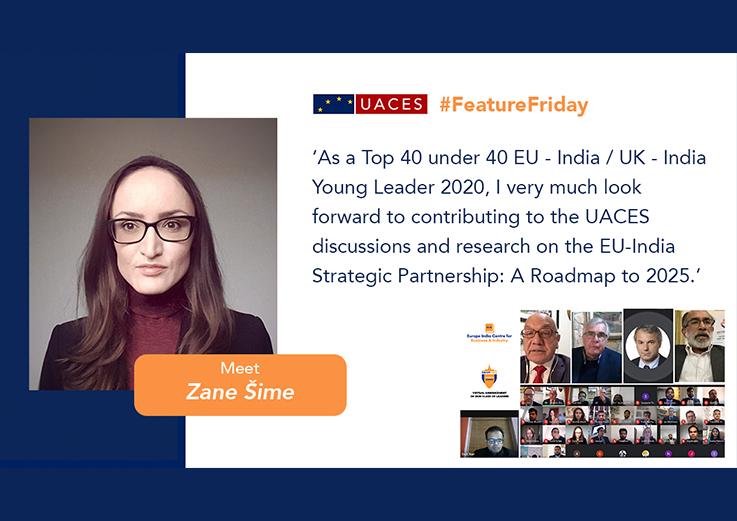 Zane Šime
40 under 40 Europe India Leaders #EuropeIndia40 is an initiative of Europe India Centre for Business & Industry that covers the stories of young leaders & their contributions in promoting EU India/UK India relations.
We congratulate Zane Šime being part of the class of 2020.
See the full list of 2020 class of 40 under 40 Europe India Leaders: https://www.eicbi.org/2020-class-europeindia40-leaders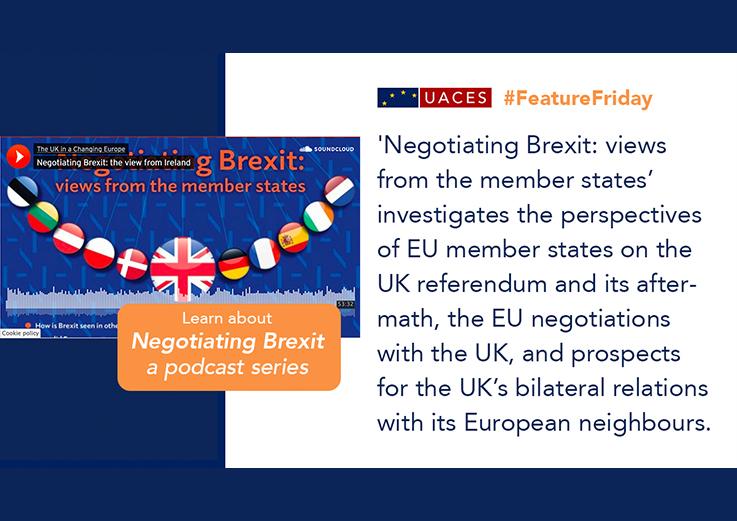 Negotiating Brexit Podcast Series
The new podcast series 'Negotiating Brexit: views from the member states' has launched in December 2020.
The podcasts are hosted by 'UK in a Changing Europe' Senior Fellow Hussein Kassim and Cleo Davies from UEA, with contributions from experts in EU member states. The series is produced by Sophie Ludkin.
Listen to the podcasts: www.afterbrexit.uk/blogs-podcasts/
Meet: The Brexit Club with Simon Usherwood
UACES member Simon Usherwood creates regular updates on Brexit in collaboration with the University of Surrey.
The playlist is filled with short videos about ongoings and developments in the world of Brexit negotiations.
Don't miss out on his updates by following #BrexitClub and @UniOfSurrey on Twitter.
Meet: Tomasz Kaminski and co-authors
UACES member Tomasz Kamiński (University of Lodz) took part in UACES #FeatureFriday to introduce his recently published open-access book 'The role of regions in EU-China Relations'. Also featured are co-authors Joanna Ciesielska-Klikowska (University of Lodz) and Michał Gzik (University of Lodz).