How to Organise an Academic Conference
By Heidi Maurer
Organising an academic conference or workshop can be very rewarding. However, it also requires a lot of work and investment of time and resources, and things never go exactly to plan. It's easy to become overwhelmed, make hasty decisions, or bite off more than you can chew. Here are my top survival tips for a successful, well-organised and academically fruitful event.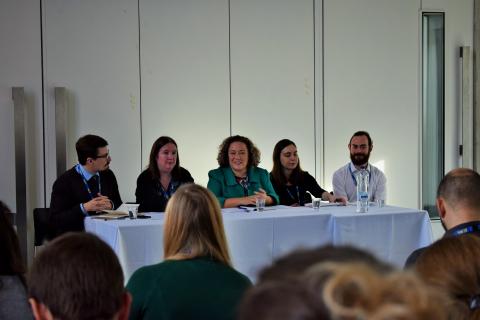 Heidi speaking at the 2017 Doctoral Training Academy
Small is beautiful: allow enough time for exchange
Your attendees will be excited about the content of their research and the opportunity for exchange you're providing. You'll want to cover as much ground as possible in the conference days at your disposal, whether it's one day, two days or one week. But, academics need time for food and time to relax too. Moreover, there is only so much new information that one can digest in one day.
Ensure that you do not overload your conference day. Have short and concise sessions, with lots of time for discussion, coffee breaks and networking. Your attendees will want to meet other colleagues. Make sure there is enough time and space for both formal and informal interaction.
The same goes for the number of participants: if you aim for a high-intensity workshop with concrete outputs and dense interaction, then it might be best to plan for a smaller group of colleagues to participate. If your objective is to network, inform and provide the environment for a range of academic exchanges, then go for a larger, conference-like event.
Make people matter
Conferences are about different colleagues exchanging and getting exposed to new ideas and innovative approaches. Inviting the right kind of speakers is therefore indispensable. It is tempting to always go for the "big name", but first, you should think carefully about what you want to get out of particular keynote speakers or panellists. If the "big name" is only tangentially connected to the aims, themes and goals of your event, they might not be right for it.
In order to ensure that people can prepare and contribute smoothly to your event, make sure you communicate what is expected from papers givers, panellists, discussants etc., clearly and well in advance. Ensure that Chairs know the allotted time for each paper-giver, in order to allow everyone the time to share their ideas.
Pay attention to details
It is never too early to start preparing your event, especially if you need to reserve rooms. The closer the date of your event, the more you need to pay attention to details. Do you also have a room for the coffee break and lunch? Where will people be able to put their luggage? Who will meet and greet people when they arrive?
Never underestimate details, and be prepared to fix a lot of loose ends, especially during the last days before the conference start. Therefore, reserve those days for working on nothing but your event. Do not forget to check security and first aid requirements at your institution (i.e. very often you need a first aid person to be present during your whole event).
It is great to join forces and organise an event together with colleagues but do not fall into the coordination trap: the more people you involve, the clearer the division of tasks and responsibilities needs to be, and the more you will need to manage and coordinate. Do not involve more people than you can handle. If a large number of colleagues express interest to co-organise, suggest they help out on the day instead with logistical support (see below).
Plan systematically
Systematic planning is key to a smooth and frictionless running of your event. The most important preparatory step, in my view, is to clearly define what you want to achieve with your event, and even more importantly, what your participants can get out of it. Many of your programme choices will depend on this decision.
Also, if you aim for a follow-up publication (e.g. special issue or book project), inform yourself beforehand and communicate such plans already to your panellists before the event, so that participants can think about your suggestions. Don't put this off until the follow-up emails; having your colleagues altogether in one room will allow for much more profound discussion and effective decision-making.
During the event, it is advisable to get logistical support (e.g. by student assistants or other colleagues) for help with printing requests, finding the right rooms, IT support, local questions etc. If it is only you who is there to help with those requests, you will spend most of your event taking care of those questions (and not enjoying your event).
Early in the planning phase, make sure you know what you need in terms of reporting, especially if you have received financial support from different sources. If you need attendance numbers, original receipts etc, you need to plan those reporting details carefully to ensure you collect them before and during the event.
Make sure you think about your communication strategy before the event. If you want to take pictures or record some of the sessions, ensure you have the appropriate equipment. It is often a good idea to have the logo of your university/school/faculty displayed in the room (and on the conference programme) so that it appears in any photos or videos taken.
Keep track of your organisational steps and re-use your planning documents for the next event as checklists. Indeed, if this is your first event, ask your colleagues if they have kept their own to-do lists from previous events, which they could share with you.
Don't panic
Very often, even if we have the perfect line-up, conference programme, registration numbers and catering plans weeks before the event, things can very quickly unravel. A week before the event, speakers can end up sending awkward time requests, or announce that they are arriving later/departing earlier than anticipated. Do not panic if you need to reshuffle things, even if that means you lose your original perfect programme. If you want a successful event, you need to stay flexible as much as possible, keep track of the changes and ensure that the latest programme version is always up-to-date.
Organising an academic conference takes a lot of work, and each process always throws up its own surprises. But, it's worth it; making an academic event happen is one of the best ways to shape the discourse and contribute to advancing academic dialogue in your field.
About the Author
Heidi Maurer, London School of Economics and Political Science | @heidi_maurer
Heidi has organised international 2-day workshops (20-30 participants) and two editions of the European Teaching and Learning Conference (www.eurotlc.eu; 40-90 participants).
This article is based on the author's presentation at the UACES Graduate Forum's Doctoral Training Academy 2017.

The European Commission's support for the production of this publication does not constitute an endorsement of the contents, which reflect the views only of the authors, and the Commission cannot be held responsible for any use which may be made of the information contained therein.