The Great Benefits of Attending Academic Conferences
By Miguel Otero-Iglesias
At an early stage in everyone's PhD process they will ask themselves the question: shall I attend an academic conference? Immediately other questions come to mind. Do I have anything worthy to be presented? Can I just present my literature review or theoretical framework, or should I wait until I have my first results from my case studies? Perhaps it is better to go first to several workshops and graduate students conferences, get experience in presenting in front of my peers, and then make the jump to a senior academic conference?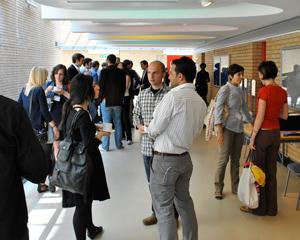 These doubts are absolutely normal, and we all went through those, but in my experience, the earlier one goes to senior academic conferences, the better. You learn and gain so much in these events that you should not postpone it to the later stages of your PhD. Of course, it is important to have something presentable. Do not go if you are not clear in your mind. But if you only have a literature review, a theoretical framework and some hypotheses, that's fine. Write an abstract and try your chances. Writing abstracts that catch the eye of the conference selection team is a skill. Start training as soon as possible.
Another skill that is important to have and that helps you to get to know other scholars and to be known in academic circles is to convene prearranged panels for the big academic conferences. Do not hesitate to write to the big names in your field proposing a panel. You will find that most of them will answer (which is already a win because they will get to know your name), and some of them might even say 'yes' to your invitation. If you get your panel or abstract accepted, prepare your presentation well in advance so that you can use the time at the conference to go to other panels and network. This is very important. Do not waste your time in your room.
By attending other presentations, you will learn from others and improve your own skills and knowledge about your field. It is also important to engage with their work, ask questions and perhaps go and see them after the panel. Like in any other profession, networking is very important in our field. This is the way to be invited to join collective research projects such as edited books, special issues in peer-reviewed journals or funding applications.
Networking is also fundamental to getting a job in academia. In most countries, the job selection process is transparent and meritocratic, but remember that ultimately, with a similar CV, selection committee members will most likely hire someone they know and that they get along with. Although, academic work is mostly individual, there is a social side to it.
For all these reasons, overcome your fears and doubts and dare to attend academic conferences at an early stage of your PhD and continue to do so at least once a year. The benefits are definitely bigger than the costs if you know how to get the most out of every conference.