The Role of Europe in Global Challenges: Climate Change and Sustainable Development
A UACES Research Network (2020-2023)
About
A UACES Research Network since 2020.
This UACES Research Network brings together academics in different stages of their careers, practitioners and policymakers, to lead scholarly debates on sustainability and climate policy in the EU and beyond. It intends to promote interdisciplinary research looking at the role of the EU as a global actor.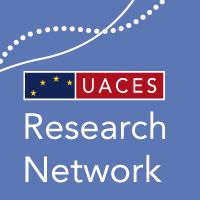 The declaration of climate emergency in several countries, and the engagement of younger generations in climate activism, cannot be ignored. Changes in the global landscape require questions to be asked, such as how will the EU respond to this new environment if it is to remain a leader in the climate and sustainability debate? How will the EU reconcile its international commitments with the national interests of Member States, in a climate of populism and Euroscepticism? Or how citizens' demands are incorporated into the new climate policy agenda? The network will address these questions looking at the Who, How and Where of policymaking decisions and upcoming initiatives. It is open to multiple disciplines and it is organising its first workshop in Chester (UK) on June 15th and 16th 2020. Call for abstracts is open till the 16th of February.
News
Live, Eat and Travel: Implementing the European Green Deal: Call for Papers.

Following the UACES Annual Conference in September 2021, we are planning an author workshop through the UACES Research Network "The Role of Europe in Global Challenges: Climate Change and Sustainable Development". The workshop participants will work towards a joint publication project, such as a special issue or an edited book.


As the host institution is "The Institute for Housing and Environment", this workshop will focus on the topic of housing and buildings, but also cover agriculture and mobility policy in the context of the European Green Deal.
See more.