Communicating Europe
A UACES Research Network (2019-2022)
About
A UACES Research Network since 2019.
Communicating Europe is a research network bringing together academics in the field of law, politics, communications and sociology in order to explore the role of communication in the assessment of the EU's actions and policies, as well as how the tone, content and source of communications affect public perceptions of the legitimacy of the EU.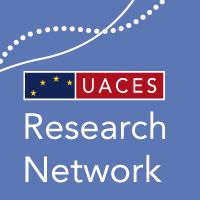 By focusing on the language used by European institutions such as the Commission in justifying its actions, the role of national politicians and traditional media in reporting about the EU, and the rise of online disinformation spread by populist actors, Communicating Europe seeks to achieve a more holistic, cross-disciplinary understanding of the role and impact of communications about Europe upon its everyday activities.
Topics to be considered include the role of different actors in framing debates about the EU; the impact on trust in European and national institutions resulting from the ways in which the EU is discussed; the regulatory concerns over political communication and the use of social media; and how healthier, more inclusive and informed debates about the EU and its institutions may be facilitated. Through the organisation of workshops, presentations at major European studies conferences, production of academic publications and engagement with the public, the Communicating Europe research network will contribute to a better understanding not only of what the EU does and says, but how these messages are framed, disseminated, critiqued and skewed by a range of different actors and agendas.