JCER
Journal of Contemporary European Research
The JCER is an open-access, online journal published by UACES in association with the Graduate Forum. We publish articles in the subject area of contemporary European studies which includes, but is not limited to, European integration, European public policy, comparative studies, culture and EU external relations. The Journal enables PhD students and early career researchers to disseminate their work alongside established scholars.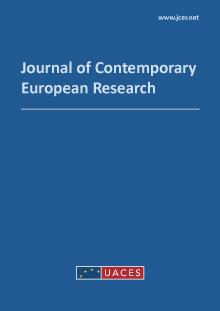 What does the JCER publish?
Research articles (7,000 to 8,000 words) in the field of contemporary European Studies;
Commentaries (2,000 to 3,000 words) which critically examine the literature and research direction of a particular topic of interest;
Book reviews (up to 1,500 words).
In addition to traditional research articles, the Editors are also keen to publish material on:
Teaching, Outreach and Engagement (in the European Studies context);
The unique insights that can be offered by practitioners (e.g. the personal memoir by Sir Michael Franklin).
Submit an Article
If you would like to submit an article, or act as a peer reviewer, you will need to register and log-in on the JCER site.
This journal provides immediate open access to readers of its content (no log-in required) on the principle that making research freely available to the public supports a greater global exchange of knowledge.
JCER Teaching and Learning
The Teaching and Learning section at JCER welcomes submissions in the form of research articles, commentaries and practice-oriented pieces (4,000 to 6,000 words) that reflect on teaching approaches and practices as well as on outreach and engagement activities concerned with learning and teaching in European politics and beyond. This section helps instructors and anybody interested to learn about and engage with ideas on teaching and learning in European Studies. Contributions are not confined to EU and European politics but European Studies understood in a broader context, including all disciplines covered by JCER.