The UK, Ireland & the European Union in a Time of Crisis: The Northern Ireland Protocol
Seminar
UACES-IACES Joint Seminar Series
The arrival of a new British Prime Minister raises once again the question of whether a settlement over the Northern Ireland Protocol is possible.
Date and time
Wed, 19 October 2022, 17:30 – 19:30 CEST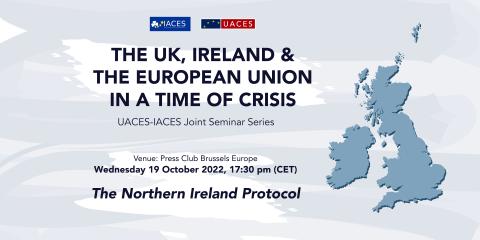 As both the key to concluding the 2020 Withdrawal Agreement and the cause of much of the subsequent tension between the UK and the EU, the Protocol sits in an uneasy position, especially for the people of Northern Ireland itself. This event brings together insights from Ireland, the UK and the EU to consider whether the lived experience of the Protocol matches the rhetoric, the options open to the various parties involved and the question of whether the securing of a mutually-acceptable outcome might start to rebuild the UK's relations with Ireland, the EU and beyond.
Chaired by Dr Giada Lagana (Cardiff University)
Speakers:
Dr Mary C. Murphy (University College Cork)
Prof Simon Usherwood (Open University)
Please register for this in-person event here.
The event is funded by the Erasmus+ Programme of the European Union.