The UK, Ireland & The European Union in a Time of Crisis
Seminar
Confronting Racism in Ireland, the UK and the EU
Racism is endemic in the UK and Ireland, and across Europe. Coming on the back of the structural violence of the so-called 'Migrant Crisis' and the rise of 'nativist' populism across the continent, the Covid-19 pandemic has shone new light on systemic racial inequalities and injustices.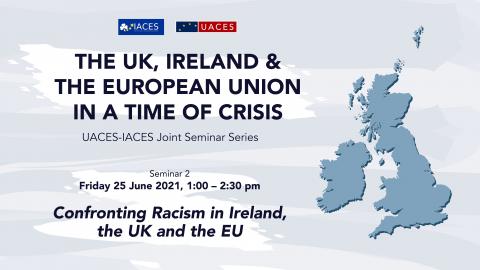 In the UK, these have been subject to recent attempts at whitewashing and denial. In Ireland, the pandemic has given new impetus to a nascent and exclusionary politics of the far-right, while across the EU 'vaccine nationalism' has given new expression to forms of structural racism.  
Throughout, anti-racist activists have continued the vital work of challenging these structures.  
In this seminar, we seek to confront racism in Ireland, the UK and the EU, interrogate its political, social and cultural consequences and explore possibilities for transformation. We will ask, in particular, what a deliberately anti-racist European Studies should look like, and the work that it should seek to do.  
Confirmed speakers:
Dr Neema Begum, University of Manchester
Dr Amanullah de Sondy, University College Cork
Shada Islam, Consultant
Kékéli Kpognon, Quaker Centre for European Affairs
Bashir Otukoya, Dublin City University
Chair:
Dr Jonathan Evershed, IACES and University College Cork