The UK and Ireland in a time of Crisis
The Future within and without Europe
About the event
The Conference on the Future of Europe was launched on Europe Day, 9 May 2021. Its aim is to engage citizens across the EU in discussions about the shape and direction of the Union in coming years, across a range of policy areas. The conference takes place against a backdrop of recent and ongoing changes in European politics, including as represented by Brexit and the impact of the Covid-19 pandemic.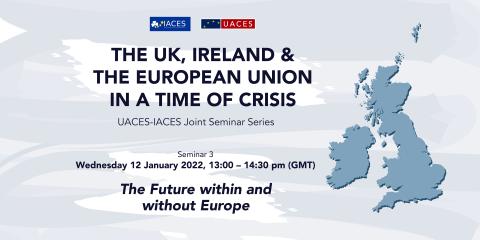 In light of the conference, this seminar looks to explore the Future of Europe in broad terms, examining the conference as a process, the options available for citizen-led reform of the EU, and the Union's changing ethos and purpose. It also considers what the future looks like for the UK as a third country and how this status will influence it vis-à-vis future challenges/crises.
Speakers:
Dr Viviane Gravey, Queen's University Belfast
Prof Danuta Hübner MEP
Dr Kathryn Simpson, Manchester Metropolitan University
Prof Simon Usherwood, Open University
Chaired by Prof David Farrell, UCD
UACES
UACES (University Association for Contemporary European Studies) is the global membership organisation for academics, students and practitioners who are interested in all aspects of Europe and the European Union.
IACES
The Irish Association for Contemporary European Studies (IACES) brings together European Studies scholars and practitioners from across the island of Ireland to foster collaboration, source funding, and disseminate scholarly research on European integration and membership of the EU. The association contributes to public and political discussion on the question of Ireland's EU membership.