The Island of Ireland after Five Decades of European Union (EU) Membership
Seminar
A Seminar Organised by the Irish Association for Contemporary European Studies (IACES); the University Association for Contemporary European Studies (UACES); Welsh Higher Education Brussels (WHEB) and the Wales Governance Centre (WGC) at Cardiff University.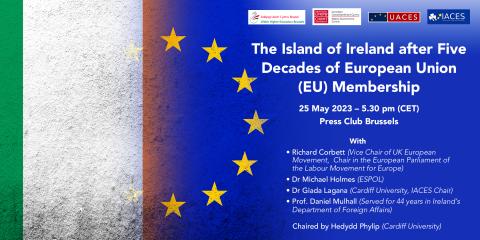 Today Ireland is a modern, prosperous, and progressive country, but it is impossible to talk about trade and the economy, farming and food, the green agenda, peace, or the development of civil rights without reference to the role played by our EU membership. By bringing together academic experts and practitioners, this panel discussion will reflect on how 50 years of membership of what is now the European Union (EU), has shaped the island's development over five decades.
IN CONVERSATION:
Richard Corbett (Vice Chair of UK European Movement and also Chair in the European Parliament of the Labour Movement for Europe. He was first elected as an MEP in 1996, and he represented Yorkshire & the Humber. He is Leader of the Labour Members of the European Parliament, part of the centre-left Socialists & Democrats group.)
Dr Michael Holmes (Associate Professor of Political Science at ESPOL, expert on the impact of European integration on political parties and party systems and co-author of Nationalism in Internationalism: Ireland's Relationship with the European Union for Palgrave McMillan).
Dr Giada Lagana (Lecturer in Politics at Cardiff University, President of IACES and author of the book The European Union and the Northern Ireland Peace Process for Palgrave McMillan).
Prof. Daniel Mulhall (Served for 44 years in Ireland's Department of Foreign Affairs including in some of its most senior positions in Dublin and overseas. He was Member of the Secretariat of the Forum for Peace and Reconciliation between 1994-95; Director General of the European Union Division at the Department of Foreign Affairs in Dublin during the negotiation and ratification of the Lisbon Treaty; Irish Ambassador to the Court of St James's at the time of the UK referendum to leave the EU and Irish Ambassador to the USA).
The event will be chaired by Hedydd Phylip, Lecturer in Public Law and Devolution at Cardiff University.
Please register via Eventbrite.