Book Publishing in European Studies
Webinar
Ask the Editors
The UACES Graduate Forum and Routledge's Contemporary European Studies series are pleased to host a virtual 'Ask the Editors' seminar for PhDs and ECRs on book publishing in European Studies.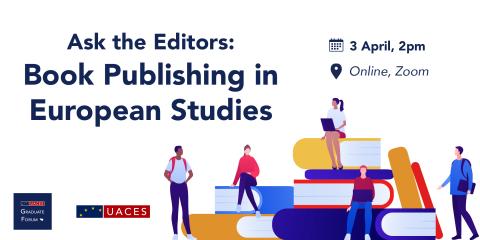 This session, which will be moderated by Mr Niall Robb and Professor Helena Farrand Carrapico, will introduce PhDs and ECRs to editors from four European Studies book series and provide the opportunity to find out more about each series.
• Palgrave Studies in European Union Politics- Professor Michelle Egan
• E. Elgar New Horizons in European Politics Series- Professor José M. Magone
• UACES/Routledge Contemporary European Studies Series- Dr Benjamin Martill
• Manchester University Press European Politics Series- Dr Kathryn Simpson
Editors will introduce the overarching themes for their series and offer a reflection on the challenges and opportunities surrounding the process of producing one's first monograph. PhDs and ECRs will then have the opportunity to ask questions about publishing with them.
Please email any questions in advance to nrobb03@qub.ac.uk and we will try to ask them on your behalf!