What is European Studies?
About the interdisciplinary field of European Studies
Contemporary European Studies
is an interdisciplinary field of study that focuses on current developments in European integration, often in combination with modern languages. Some Universities offer a social science or public administration curriculum focusing on developments in the European Union. There is usually a combination of political science, EU public policy, European history, European law, economics and sociology. Other universities approach the subject in a broader manner, including topics like European culture, European literature and European languages. National topics, from a comparative perspective, are often included in European studies.
Geoffrey Edwards, Emil Kirchner and Brigid Laffan on European Studies
Geoffrey Edwards (University of Cambridge), Emil Kirchner (University of Essex) and Brigid Laffan (European University Institute) speak to Emily Linnemann (UACES) about the development of European Studies over their academic careers.
This video was produced for the Special Section on UACES's 50th anniversary in the Journal of Contemporary European Research (JCER).
Watch In Conversation with: UACES Lifetime Achievement Award Winners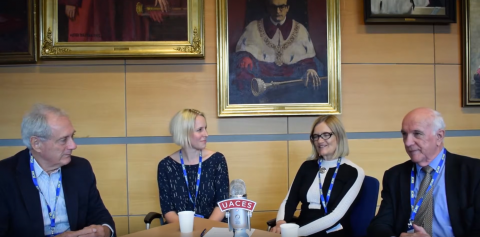 Mike Smith on European Studies
Mike Smith is Professor in European Politics in PAIS, University of Warwick. He was previously Professor of European Politics and Jean Monnet Chair at the University of Loughbourgh. In 2010 he was awarded the UACES Lifetime Achievement Award in European Studies. In an interview with current UACES Chair, Helen Drake, he talks about how his interest in European Studies began, how the subject area has developed and why he thinks European Studies makes such an interesting area of study. Lastly, he poses some key research questions faced by future scholars.
"The way I would see it, the European Union is on the one hand a very interesting set of international relationships which have gone beyond pure inter-state relations - way beyond that - and because of that, they then extend in many ways into the broader international arena. So if you want to understand some very important basic points about international order, about international organisations, about foreign policy and diplomacy, then a very good place to start is the European Union."
Professor Mike Smith, University of Loughborough