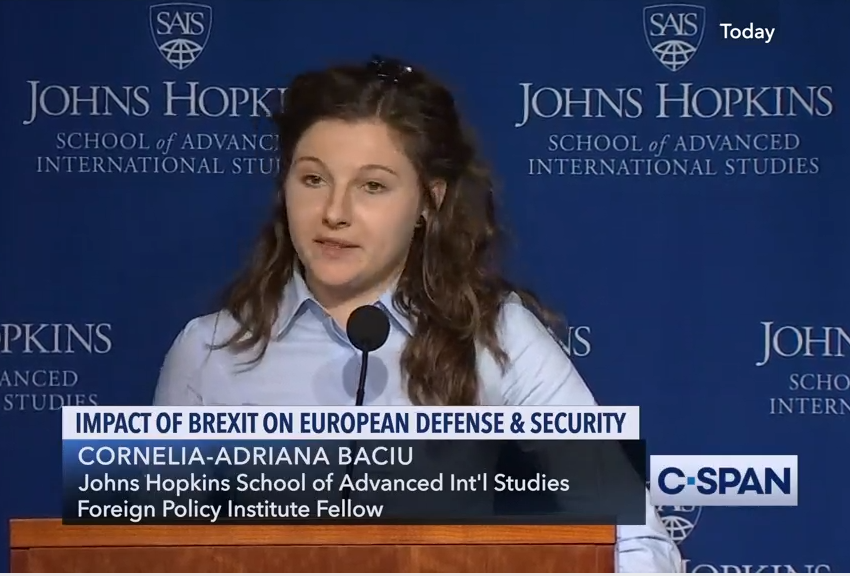 Dr Cornelia Baciu
Institute for Peace Research and Security Policy at the University of Hamburg &

Media Experience

https://www.c-span.org/video/?465067-1/irish-ambassador-us-daniel-mulhall-discusses-brexit&playEvent#!

Biography

Dr. Cornelia Baciu is Postdoctoral Fellow in European Security at the Institute for Peace Research and Security Policy at the University of Hamburg, Germany. Previously she was DAAD-Postdoctoral Fellow in the project "United States, Europe and World Order" at the Foreign Policy Institute, School of Advanced International Sciences (SAIS), Johns Hopkins University in Washington DC. She has PhD from the School of Law and Government, Dublin City University and was YERUN Visiting Fellow at the Centre for War Studies, University of Southern Denmark. Cornelia Baciu delivered evidence on CSFP and European Security in the Irish Seanad. Cornelia Baciu's research examines international security organisations (esp. NATO, EU, UN), civil-military relations, risk management, US and EU foreign policy, comparative peace strategy and research methods. She published two books, one on civil-military relations and global governance (2021) and another one on Brexit and European security order (with John Doyle, 2019). She is Deputy Convenor of the British International Studies Association's (BISA) Foreign Policy Working Group and of the Working Group 'European Security and Defence Transformation' of the Association pour les Études sur la Guerre et la Stratégie (AEGES), Paris. She is also affiliated with the DCU Brexit Institute and is Director of the Research Network 'European Security and Strategy', which comprises scholars from over 25 universities from the Euro-Atlantic space and beyond. Cornelia Baciu was awarded the BISA Excellence in Teaching Prize and the LSRS Prize for the Best Romanian Research Student in Europe. She also recived the VEUK-Prize for her MA thesis at the University of Konstanz. Cornelia Baciu lectured Research Methods and Theories of International Relations. Her research was published in international academic journals and open-source publications.